Over Friday 27 & Saturday 28 May, music-nuts get to go from gig to gig enjoying an amazing lineup by iconic musicians and DJs across seven stunning Wellington venues.
Pick all your favourite bands and plan your trail using the programme guide below!
Julia Deans is sold out! Book in quick for The Boomshack Band, tickets are selling fast. Everything else is FREE, no bookings required.
*Please note that the line-up is subject to change due to potential Covid isolation of artists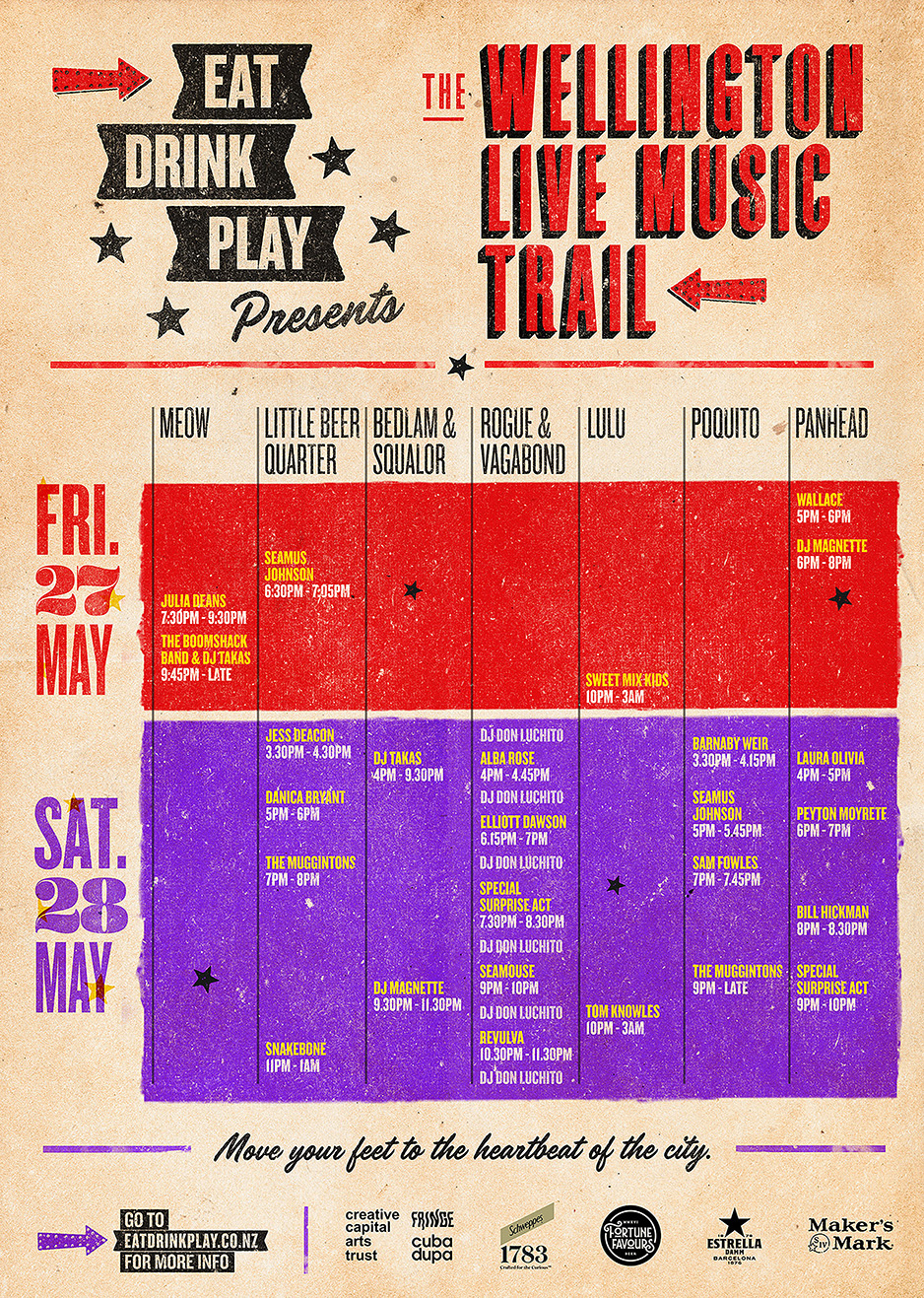 Playing authentic R'n'B, Rockabilly, Rock n Roll, Surf and early 60s
Ricky Boyd, Tyson Smith, Matt Pender, Steve Moodie, Dayle Jellyman, Matt Benton, Lily Shaw, Ben Hunt + Guests, Sam Scott, Barnaby Weir, Lisa Tomlins and Seamus Johnson. Session musicians wanting to share their late night jams.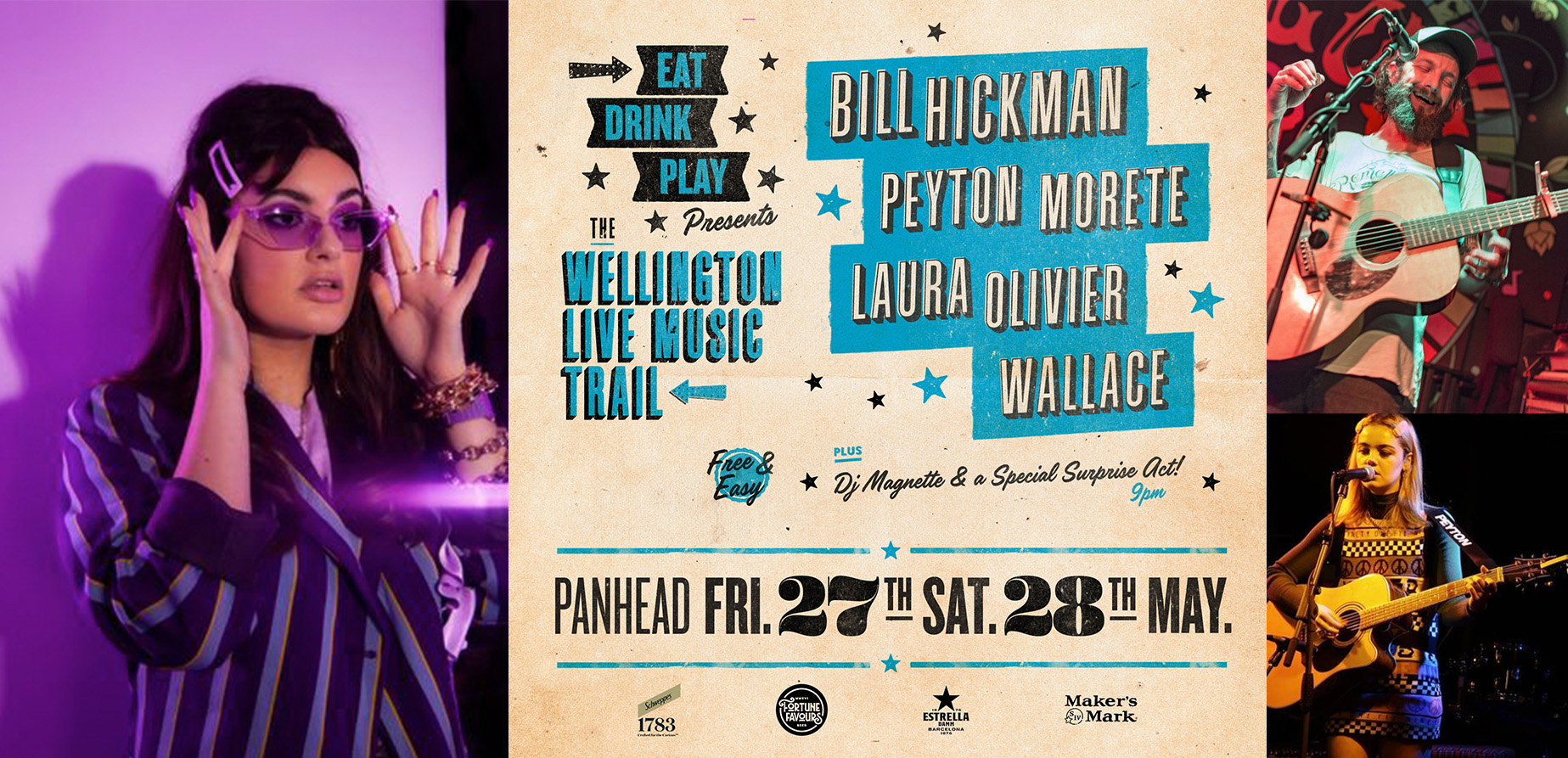 PANHEAD STAGE
With a sound steeped in a mosaic of beats, jazz, blues and soul the award winning Wallace has clocked up an impressive list of achievements. Her music has taken her across the globe, touring alongside artists such as Rag 'N' Bone Man, Morcheeba, Little Simz, Ngaiire, Winston Surfshirt and Jordan Rakei.
Bill Hickman was born in Kaikohe but has spent most of his life in Wellington NZ. He has been playing guitar and writing songs in an eclectic range of groups and styles for the last 20 years. Bill is a committed performer who conveys the intensity and grit of his songwriting with a relaxed, upbeat approach that reflects the redemptive spirit evident on his debut Ep. 'Ghost of Smoke'.
Check them out!
Peyton Morete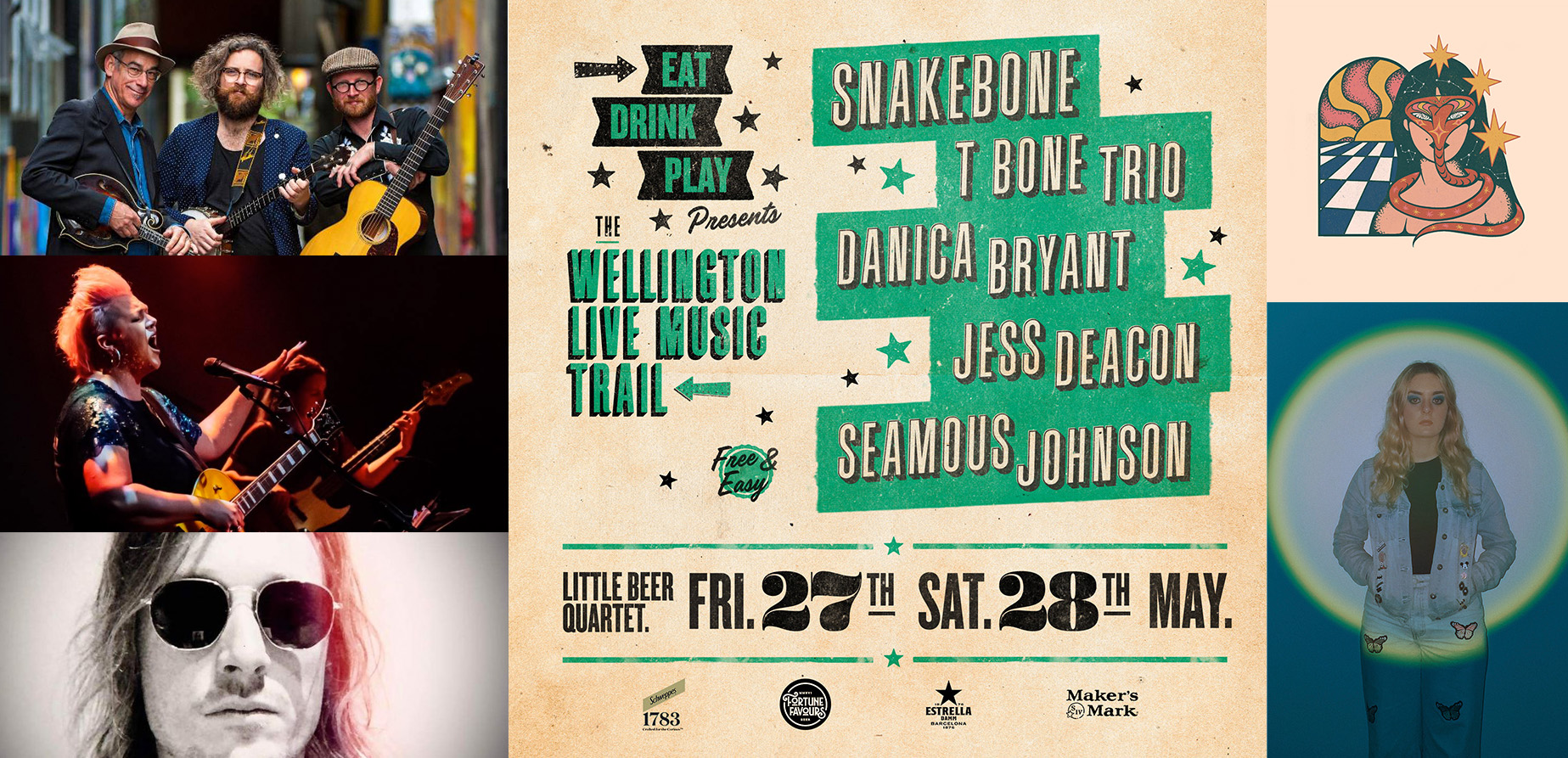 Little Beer Quarter stage
The T-Bone Trio present a soulful blend of high-energy Americana music played on guitars, mandolin, banjo and fiddles with close vocal harmonies and fiery instrumentals.
Comprising of Gerry Paul, Cameron Dusty Burnell, and Richard Klein, the T-Bone Trio play an eclectic mixture of styles within the Americana genre, drawing on their backgrounds in Old Timey, Bluegrass, Country, Cajun, Zydeco and Blues.
Check them out!
Snakebone, Danica Bryant, Jess Deacon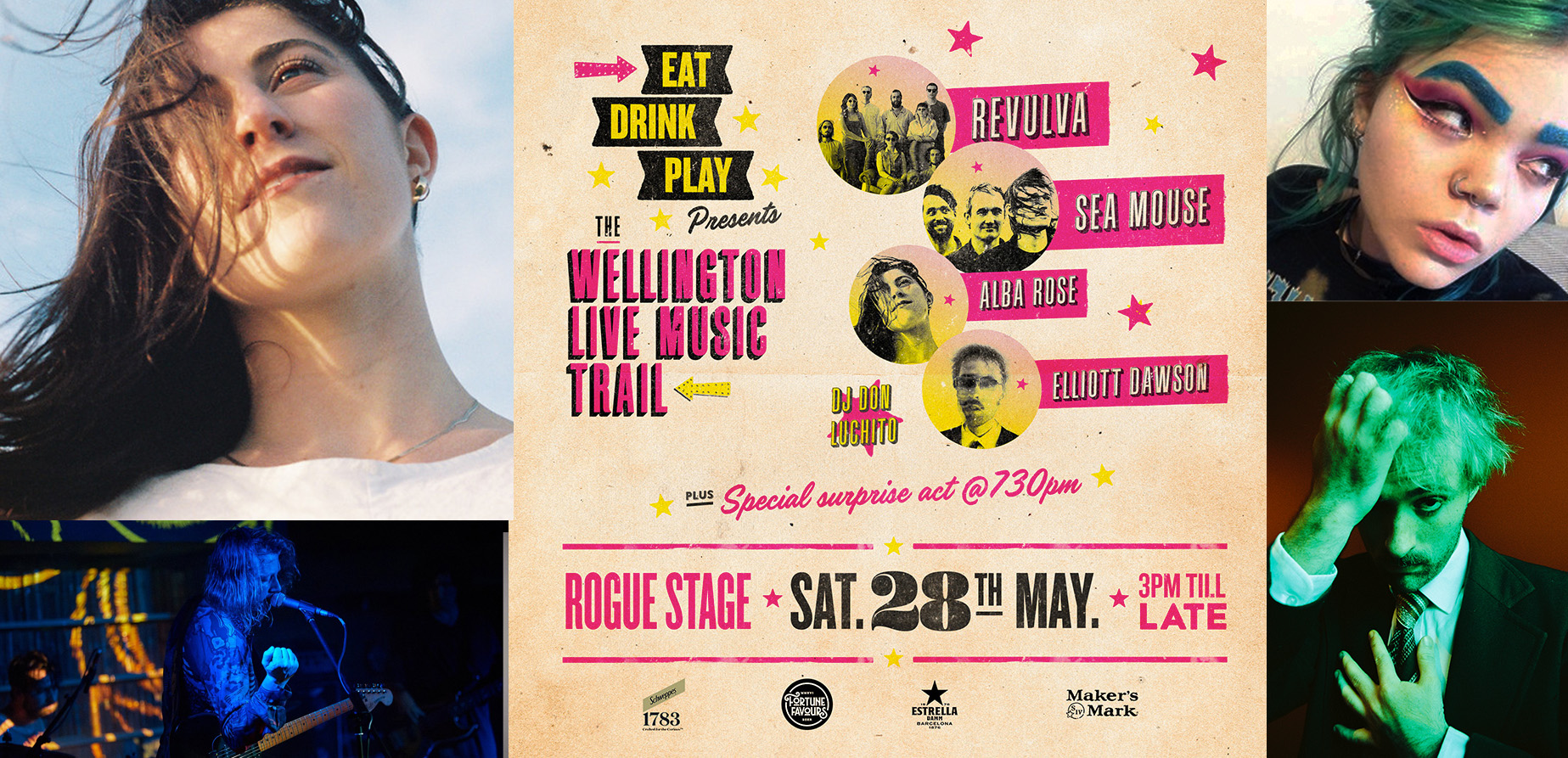 Rogue & Vagabond Stage
Sea Mouse is the latest project of musician Seamus Johnson, described as a combination of Jack White and Led Zeppelin, with a touch of Alexei Sayle. Band members include Scott Maynard (bass) and Thomas Friggens (drums).Sea Mouse have been noted for their powerful live performances, a "rock band powerhouse".
Revulva (New EP release, Fri 27 May)
Revulva gonna make your knees weak, wiggle and wet on the d floor. Nu-wave, nu-jazz goodness brewed up in Pōneke by the eight piece family band.Their live sound is an exciting, theatrical and all encompassing body experience. Pull up your socks and prepare your moves for some good grooves, sarcastic lyrics and group choreo. Riding the highs of their debut singles Sniffly Lady and Tuning Out, Revulva are preparing themselves and the world to release their third: One Puff Wonder – a tale of the exhausting social pursuit of pretending to smoke. Revulva's three singles will make a bed for their first EP Girl's Gotta Eat to be released in late March 2022.
Check them out!
Alba Rose, Elliot Dawson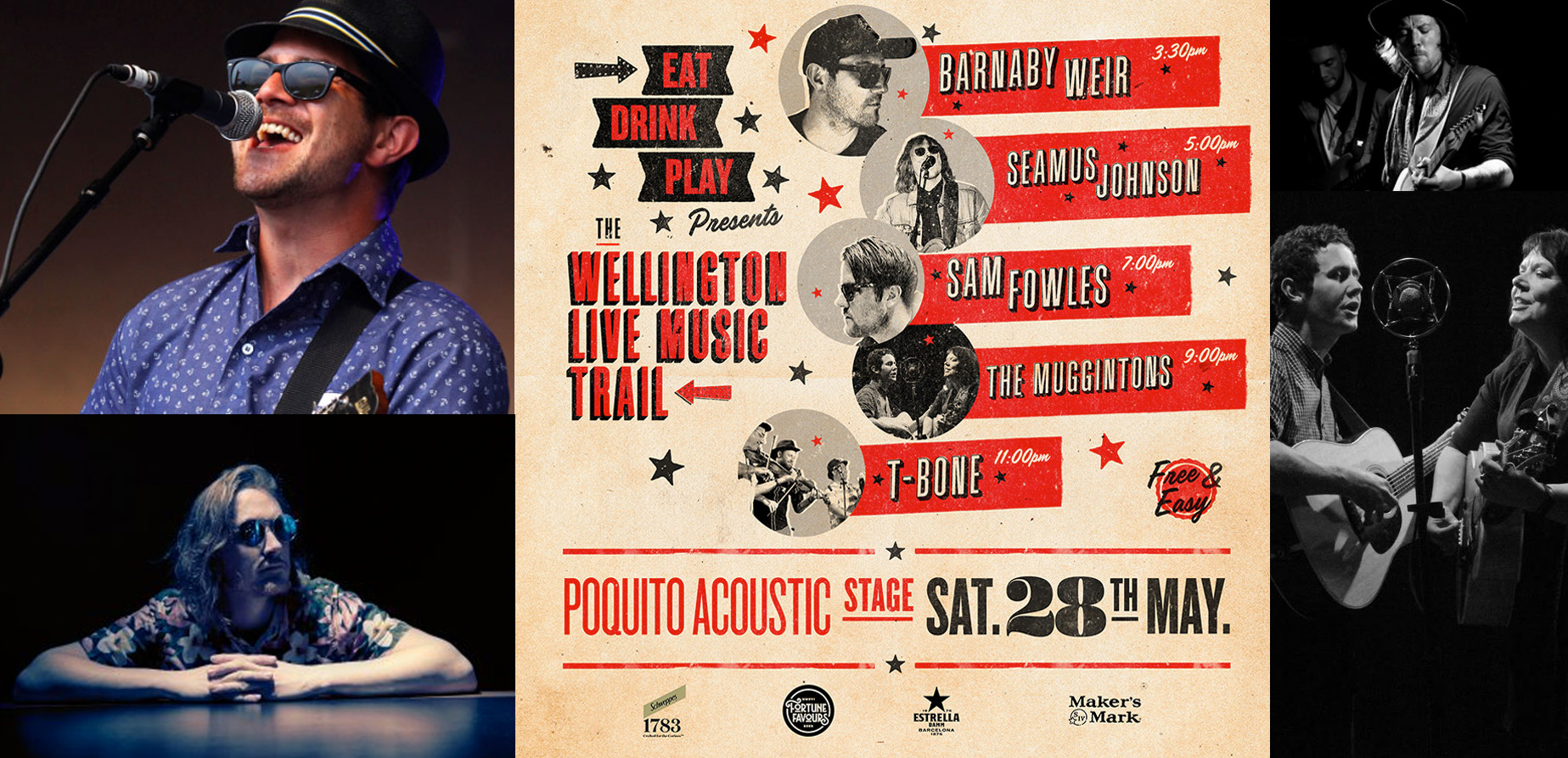 Poquito Stage
Best known as the lead singer of The Black Seeds and band leader of Fly My Pretties. Barnaby also produces electronic music as Flash Harry and has released solo albums.

Check them out!
The Muggingtons , Sam Fowles