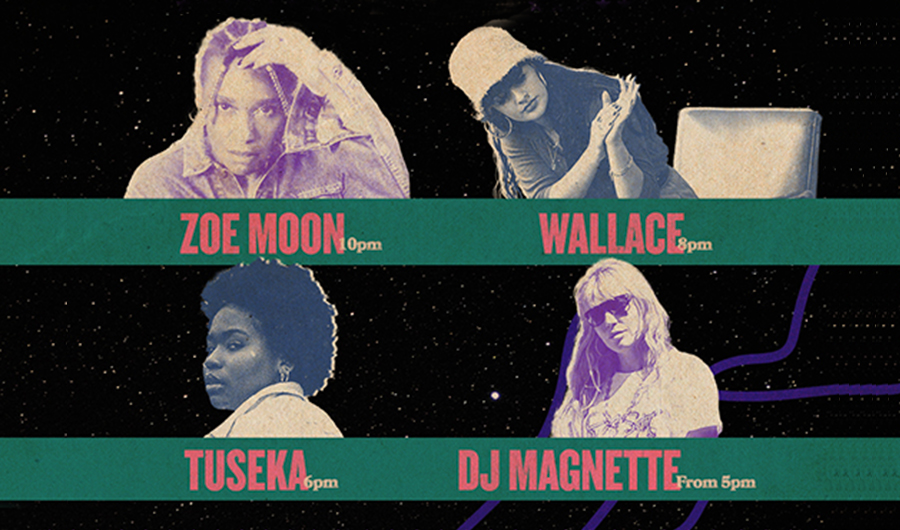 Wellington Live Music Trail – Zoe Moon, Wallace, Tusekah & DJ Magnate
Rogue & Vagabond
Wellington Live Music Trail - Rogue and Vagabond
Doors 6pm
Tusekah (6pm)
Wallace (8pm)
Zoe Moon (10pm)
Also featuring DJ Magnate
Koha Entry - Straight to the artists
Zoe Moon
Zoe Moon (Mahal) is an Artist with a wealth of songs bursting from her soul. Hawaiian born, Aotearoa bred: this Pōneke-based music progeny, weaves a world of influences into an undulating dance between strength and softness. With a voice that effortlessly glides from resonant low notes to angelic upper registers, and an uncanny knack for distilling honesty in her lyrics, Zoe's music is an unbridled and eclectic blend that she calls 'Folk R&B' and delivers with conviction.
Wallace
Wallace's music has been described as a vibrant mosaic of soul, hip-hop and pop, her trademark jazz-influenced vocals and magnetic presence demonstrating her evolution as a songwriter to watch.
Her refreshing talent has granted her the opportunity to work in the studio with Dutch legends Kraak & Smaak, Australian hip-hop staples Thundamentals, Botswana-raised, Melbourne-based rapper Sampa The Great, laying vocals over beats by Godriguez, and working closely with producer Simon Cohen (behind Justin Bieber's global #1 song "Love Yourself").
Celebrated for her electric live show, Wallace has previously toured alongside the likes of Rag 'N'Bone Man (UK), Morcheeba (UK),
Little Simz (UK), Jordan Rakei (AU/UK), Gabriel Garzon Montano (USA) Masego (USA), Electric Wire Hustle (NZ), Kllo, Winston Surfshirt, Ngaiire and The Kite String Tangle.
Consistently connecting the dots between genres and influences, Wallace's artistic identity has become uniquely recognisable, with her jazz training and distinct harmonies captivating audiences around the globe.
Tusekah
Tusekah is a singer/songwriter based in Christchurch who releases music with the sounds of RnB/NeoSoul. Tusekah commenced her music career in 2021 by doing gigs and ended the year off with a single release of her first single, "Childhood Friends". Since then, she has performed all over New Zealand delivering what have been described as spine-tingling performances. This has included a full-capacity headline show in Wellington, which was opened by Wellington musician MĀ. Other career highlights so far have been opening for Niko Walters and Deva Mahal in Christchurch and being played on BBC Radio 1 in the UK. This has included the work of multiple talented New Zealand musicians such as Marley Sola, Jules Blewman, Hikurangi Schaverien-Kaa, Oscar Ladell, AziFM and others. This performance will be part of Tusekah's tour of her second single "I ain't waiting".
DJ Magnette
DJ Magnette is a Pōneke based DJ. Bringing you the best R&B, Soul and Hip Hop jams.
Koha Entry
Book Now