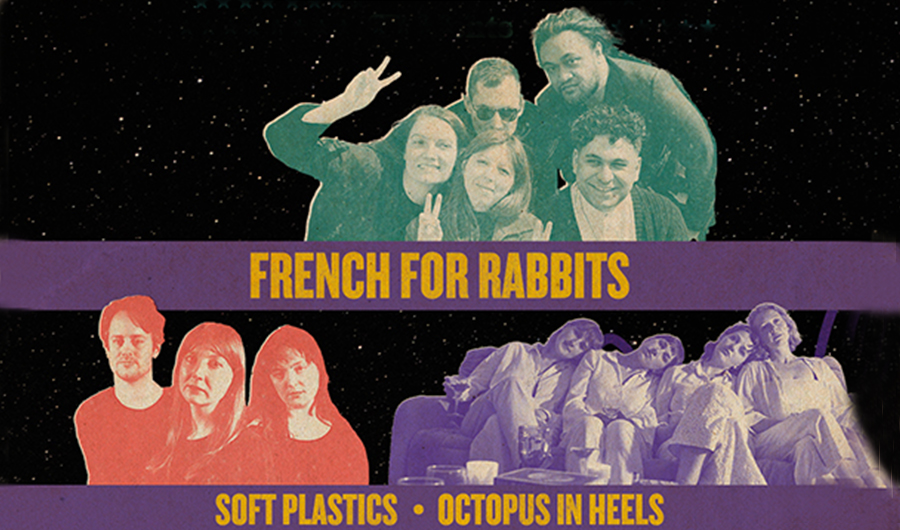 Wellington Live Music Trail – French For Rabbits, Soft Plastics & Octopus in Heels
Meow
Join us at Meow for an early evening to sooth your soul featuring french for Rabbits, Soft Plastics and Octopus in Heels.
Tickets $25 from Moshtix
7:00 pm - Doors
7:30 pm - Octopus in Heels
8:15 pm - Soft Plastics
9:15 pm - French For Rabbits
French For Rabbits
Dream pop luminaries French for Rabbits have dedicated over a decade to making music reminiscent of the isolated and haunting landscapes in which it was created. Always with a magpie's eye for detail, they are beloved by music fans around the world for a sound characterised by shimmering guitars, understated yet expansive musicianship, intimate melodies and observational storytelling.
Formed in 2012 by songwriter and vocalist Brooke Singer and guitarist John Fitzgerald in the coastal township of Waikuku Beach, they released their first EP 'Claimed by the Sea' to international acclaim via local label Home Alone, receiving international radio play and a nomination for Folk Album of the Year at the New Zealand Music Awards.
In the following years the band expanded to include multi-instrumentalists Ben Lemi and Penelope Esplin alongside drummer Hikurangi Schaverien-Kaa who have each made their own imprints on the bands distinctively oceanic sound.
Together they released three more albums, the 2014 break-out 'Spirits' featuring fan favourites 'Goat' and 'The Other Side' which featured on The Vampire Diaries and sparked over 20 million streams, 2017's sombre 'The Weight of Melted Snow, and 2021's Taite Award nominated 'The Overflow'. This latest release was described by Atwood Magazine as "an undeniable triumph" and is undoubtedly their finest work to date.
They have toured internationally to the US and Europe, opening for acts such as Lorde, Agnes Obel and performing at SXSW, Iceland Airwaves, WOMAD and even in a castle for a fan's wedding in Switzerland.
In 2023 they work on new material and a series of shows with string quartet which is taking place in September. For this one-off show as part of Eat Drink Play, they will be joined by Phoebe Johnson (Revulva, Ebony Lamb).
Soft Plastics
Sophie Scott-Maunder (she/her), Jonathan Shirley (he/him), and Laura Robinson (she/her) make up Soft Plastics, an indie rock trio based in Te Whanganui-a-Tara, Aotearoa (Wellington, NZ).
Described as garage pop with a nostalgic twist, Soft Plastics expertly blend melody and groove with moments of noise and power. Taking influence from 2010's indie guitar bands and alternative bands of recent years, the group are accomplished at converting fuzzy riffs and shoegazey reverb into devotional (and occasionally noisy) indie pop hooks.
Named by Radio New Zealand as 'Ones to Watch in 2022' , Soft Plastics have earned an excellent reputation with their unique brand of indie rock.
Octopus in Heels
"Octopus In Heels" is a Wellington-based folk ensemble dedicated to bringing genuine songwriting to life with majestic 4-part vocal harmony. This all-female group captivates their audience with original material that draws from the 70's NY folk scene in combination with modern twists and themes that explore flute, saxophone, double bass, ukelele and guitar. Playing their first show in May 2022, all members have formed a harmonious bond through their live performances and aim to create a safe space to share and connect intimately with their audiences. They were fortunate enough to win a songwriting competition with Tiny Triumph recordings and will be releasing their first single/music video "Keeping My Body" within the coming months.
$25
Book Now