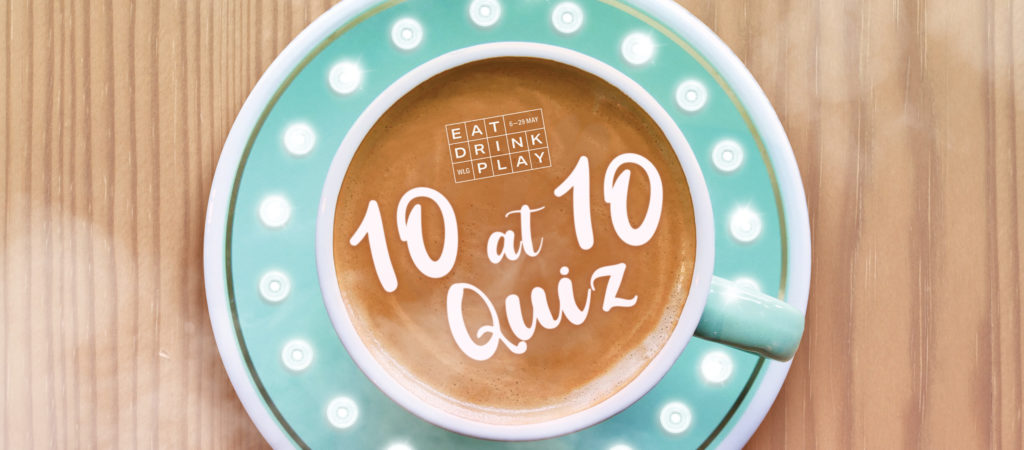 Today's winners – Thursday 26 May
(previous winners listed down the bottom of the page)
Summit
Rabbit
Nathan greenham
Freddie Einstein
Simon Mahoney
Please email edps@hospitality.org.nz with 10 @ 10 in the subject to redeem your prize.
Love a quiz?
Do you miss the good old days of live coffee with actual humans? With so many of us working from home and online, that fundamental part of office life is missing: morning coffee and the daily quiz.
What if you could enjoy an invigorating long black, and instead of pitting your general knowledge against your colleagues, work together to be the most clever and caffeinated office in town?
Baristas want to see Wellingtonians back in their shops, buying a round for their workmates. So here's a bit of fun: 10 (questions) at 10 (am). When you drop down to your local Mojo coffee shop or go to pick up your order, grab the daily quiz code to take back to the office, and register your answers to nab your spot on the leaderboard.
10 at 10 will be played Mon-Fri for the three weeks of the Eat Drink Play Festival. There will be spot prizes including free coffees, Neon and Sky passes and an Annual Pass to Sky sport Now which will give you access to the All Blacks, FIFA World Cup, Commonwealth Games, English Premier League, T20 Cricket World Cup in 2022!
You'll need the TRIBE app to get in on the action. Download the app on Google Play or the App Store, sign up and select 'quiz' in the menu

. Easy!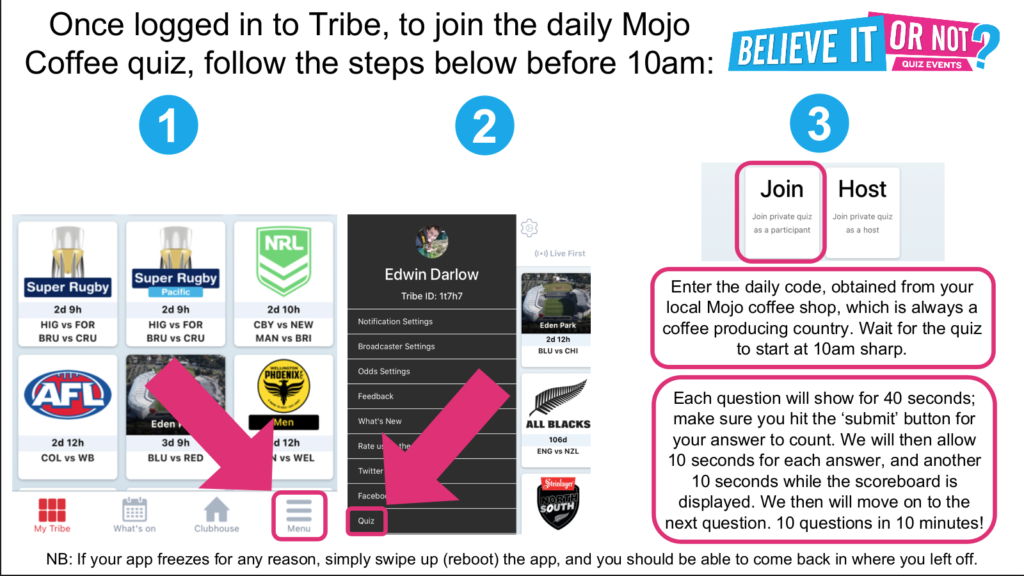 Participating stores where promotion is available:

MOJO AIRPORT
WGTN INTERNATIONAL AIRPORT
MAIN TERMINAL–LEVEL C
MOJO WAKEFIELD
WAKEFIELD HOSPITAL MAIN FOYER
99 RINTOUL STREET, NEWTOWN
MOJO HOSPITAL
LEVELC, CLINICAL SUPPORT BLOCK
49 RIDDIFORD STREET, NEWTOWN
MOJO MARKETLANE
1 MARKET LANE
MOJO WATERFRONT
UNDER MERIDIAN HOUSE
33 CUSTOMHOUSE QUAY
MOJO VOGEL
JUSTICE CENTRE FOYER
17 AITKEN STREET
MOJO SUMMIT
184 MOLESWORTH STREET
MOJOB OWEN
BOWEN CAMPUS FOYER CAFÉ
34 BOWEN STREET
MOJO TAHI
TREASURY FOYER CAFÉ
1 THE TERRACE
MOJO AURORA
AURORA HOUSE FOYER CAFÉ
56 THE TERRACE
MOJO TERRACE
WCC FOYER CAFÉ
113 THE TERRACE
MOJO CENTRAL
SPARK CENTRAL FOYER CAFÉ
42 – 53 WILLIS STREET
MOJO STATE
AON FOYER CAFÉ
1 WILLIS STREET
MOJO OLD BANK
OLD BANK ARCADE
MOJO BEANERY
LAMBTON ARCADE
180 LAMBTON QUAY
MOJO ORIGINS
104 LAMBTON QUAY
Daily winners so far – email edps@hospitality.org.nz with 10 @ 10 in the subject line to redeem your prize
Wednesday 25 May
Princess Biddy
Roddel
Cand Ace
Jess Machray
YoL
Tuesday 24 May
Mark Peacock
Mad Goo
Dariano Lowshea
Claire
Bradley Pope
Monday 23 May
Basil Fawlty
Tutsi
Jimmy Ross
F L
Tayla Parsons
Friday 20 May
Paul Watson
Sophie Malophie
Let's go Brandon
Sss
Kingfisher Lad

Thursday 19 May
Tim Zwart
Layna
Isobel
KL
Aaron

Wednesday 18 May
Brent Taylor
James Pembo
Jules Jewels
The GOAT
Finchy
Tuesday 17 May
Solo Tim
Steve Larkins
Simon Mahoney
Hayley James
Coffee Machine Broke
Monday 16 May
Andrew
Lexie's Lillies
Terry Marston
AnnaMac
Jimmy Ross

Friday 13 May
Patrick
Baz the Pom
Erin Ahuriri
Doggy Do
Nathan Cornwell
Thurs 12 May
Dana
Fontayne
Teone
Frankie G
Robbie Turner
Wed 11 May
Grant Travers
Roddel
Rab Morton
Gingernuts
Bonedome
Tues 10 May
Joy
Sarah O'Keefe
Team BigEars 2022
Amy McEwen
Suzanne George
Mon 9 May
Michelle Wallace
Damien Grover
Tayla Parsons
John Holloway
Wynton Newman